One of my favorite gals, Erica Bohrer, has published another book for Scholastic. Oh My Goodness, Oh My Goodness I am so excited for her. I can't wait for my copy to come in the mail.
Erica is a super sweet gal and her blog Erica Bohrer's First Grade is simply spectacular. I love her Common Core Aligned Activities and Theme Units.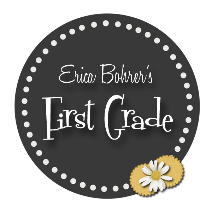 Her newest book 20 Super Spelling Centers will be released on April 1st!! Click on the picture below to head on over to amazon to pre-order.
Her First Book Just Right Reading Response Activity Sheets for Young Learners  (Published May 2010) Is a great tool for any K-2 Classroom. Click on the picture to head on over to amazon to purchase. Trust me you won't be disappointed.
I just wanted to give a little shout out to Miss Erica!!!
You rock girl!!!
Always, Melissa